FOUND – Carter's Just One Year CREAM PONY with PINK POLKA DOT SADDLE & FEET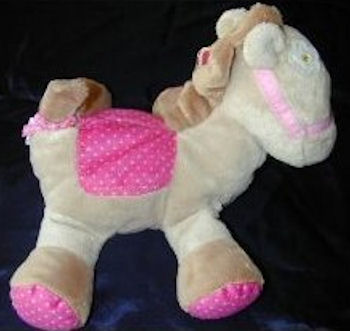 Hi, I am looking for this Carter's Just One Year plush cream horse with pink polka dot saddle and feet, pink satin bridle, and a tan mane.
My daughter had one since birth, and it quickly became her favorite comfort toy. We lost it over the weekend and need to replace it. I can't find it anywhere!
Thank you,
Alicia
If you can help Alicia find this Carter's Just One Year Cream Horse with Pink Polka Dot Saddle & Feet, THIS SEARCH REQUEST IS NO LONGER ACTIVELY MANAGED. Please use Our FREE FACEBOOK GROUP, including the POST CODE #16491,
Originally posted Sunday – 07/11/2010