Searching – Russ CREAM Beanie LOVE LAMB with BLUE CROSS
We now have a mailing list of people looking for this lamb.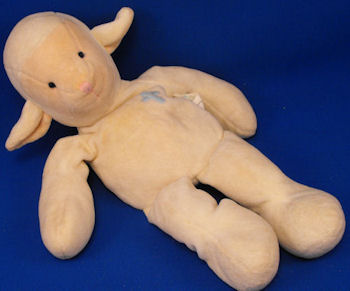 I'm looking for a RUSS No. 2790 plush 11 inch cream beanie velour lamb named LOVE, with tan velour face and ears. There's a BLUE CROSS embroidered on the chest.
I am trying to find one of these for my son. His aunt bought him one when he was a baby, and it became his favorite. He later named him Buddy, and he took Buddy everywhere with him,' and he couldn't sleep unless he had him. He even took him with him when he had to have surgery. Somehow Buddy has gotten lost, and he has been wanting him back.
So I need to find a replacement, so if you have one or could find one I'd greatly appreciate it.
Thanks,
Justin
If you can help Justin find this Russ no 2790 Cream Beanie Velour Lamb Love Blue Cross, THIS SEARCH REQUEST IS NO LONGER ACTIVELY MANAGED. Please use Our FREE FACEBOOK GROUP, including the POST CODE #20907
Searching for a toy – Originally posted Thursday – 12/08/2011