FOUND – Baby Connection JESUS LOVES ME Green FROG
Our Fabulous Finder was able to help Susan get one, but Jennifer is still looking for this frog.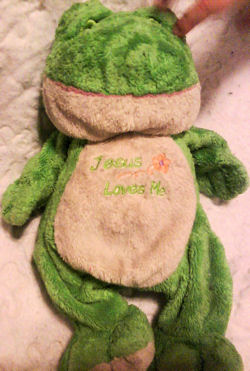 We are in search of a green frog by Baby Connection, sold at Walmart in 2006. It has Jesus Loves Me embroidered on its tummy, and if you press its hand it will sing it.
My son lost it on a day of shopping 2 years ago, and we have been searching ever since. He is 5 now, and he asked if we thought Santa could find it as a surprise for Christmas, so of course now our search has increased!
Thanks,
Susan
If you can help Susan find this Baby Connection Jesus Loves Me Green Frog, THIS SEARCH REQUEST IS NO LONGER ACTIVELY MANAGED. Please use Our FREE FACEBOOK GROUP, including the POST CODE #20979,
Originally posted Sunday – 12/11/2011