Searching – Green 80s Prestige PUFFALUMP DINOSAUR with PURPLE EYES and PINK CLAWS
Anna is still looking for this dinosaur, but the prices recently have been way too high for her. We have a mailing list of people looking for the boy and the girl version of this dinosaur.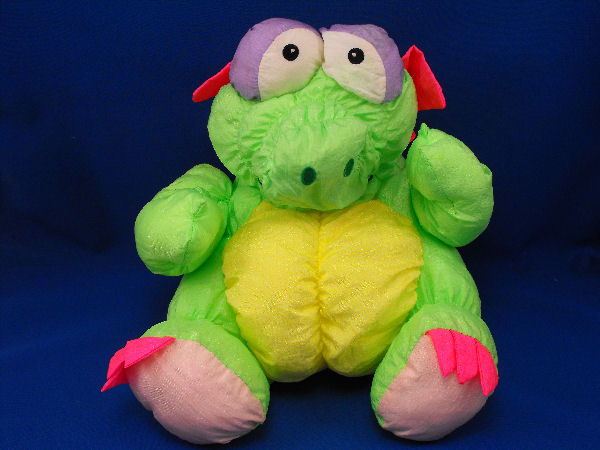 I'm looking for a PRESTIGE TOY CORP. 1988 Puffalump green dinosaur with purple and white bulging eyes. She has yellow ears and tummy, and blue and yellow scales on her back. She has red nostrils and mouth, but her toenails are pink. She has a girlie look.
I received this dragon, called Gator at my house, as a gift in the early nineties and kept it safe until 2007 when my beloved dog, Romeo, shredded it. Well, I almost kept him safe. There was an incident in 1995 where another dog attacked his left eye. I was able to promptly buckle him into the car and haul him to a seamstress, who honestly did a rather poor job of repairing his injury. He forever had a sort of rough and tumble pirate-look about him, but I loved him nonetheless.
I would appreciate any help that is available in locating a replacement.
Thanks,
Anna
If you can help Anna find this PRESTIGE TOY CORP Puffalump Green Dinosaur Yellow Purple Pink Accents, THIS SEARCH REQUEST IS NO LONGER ACTIVELY MANAGED. Please use Our FREE FACEBOOK GROUP, including the POST CODE #20991,
Searching for a toy – Originally posted Monday – 12/12/2011