Searching – Playskool JAMMIE PIES DITTY Yellow DOLL
We have a mailing list of people looking for the various Jammie Pies dolls and their pets.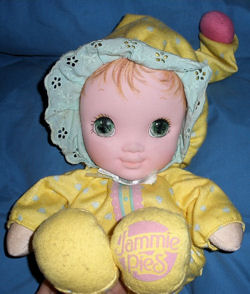 I am looking for a Jammie Pie doll. I believe her name is Ditty. She is the one with the yellow pajamas and bonnet.
I am 24 years old, and i am looking for a doll that looks just like mine from my baby years. I am hoping to get one for my year old niece. I'd also like another for a replacement to the one that I have, since the one that I do have is very old and I am afraid that if I wash her she'll fall apart.
If any one knows of a way to get one or make one please contact me ASAP!
Thanks,
April
If you can help April find this Playskool Jammie Pies Ditty Doll Wearing Yellow, THIS SEARCH REQUEST IS NO LONGER ACTIVELY MANAGED. Please use Our FREE FACEBOOK GROUP, including the POST CODE #21025,
Searching for a toy – Originally posted Wednesday – 12/14/2011