Searching – Pink Fisher Price Slumber Babies Rabbit Doll
We have a mailing list of people searching for the various Slumber Babies.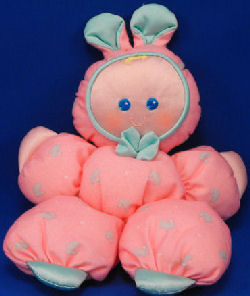 I'm looking for a 1989 pink Fisher Price Slumber Babies rabbit doll. She's wearing a print pink knit outfit with aqua bunny rabbit ears, and aqua binding on the hood, feet, and a satin bow.
When I was very young I had three of the pink Slumber Babies, and I just found out what they are today. I never knew what they were called. I received one as a gift when I was born. Due to the amount of traveling we did when I was a child (Army brat), one was accidentally left at a hotel. I could not sleep without "Baby." My mother bought another and I named her "New Baby."
The next time I saw my grandfather, he also had one for me. New Baby became "Old Baby" and the one my grandfather gave me became "New Baby." Strangely enough, I could tell them apart. Old Baby had a distinct look, and I could not sleep without her under my head.
One day, while I was on a run with my mother (I was in the stroller), I dropped Old Baby somewhere on the route. My mother and I looked for her for what seemed like hours. I was so devastated. My mother comforted me by deeming New Baby as the new "Old Baby." It took me a long time to get used to it, and the story is actually kind of depressing because they were my favorite toys. I still have my newest Old Baby, and I am now 22 years old.
I like to think each of my Babies was picked up by a little girl and was loved as much as I loved them.
Thanks,
Shamble
If you can help Shamble find this Fisher Price Pink Slumber Babies Rabbit, THIS SEARCH REQUEST IS NO LONGER ACTIVELY MANAGED. Please use Our FREE FACEBOOK GROUP, including the POST CODE #25964