Searching – "Walking" DALMATIAN 1989 Tomy Scamps Dog
It is the Dalmatian dog that Alvin wants. It is alright if it does not come with the walker apparatus.
We now have a mailing list of people looking for a Tomy Scamps dog.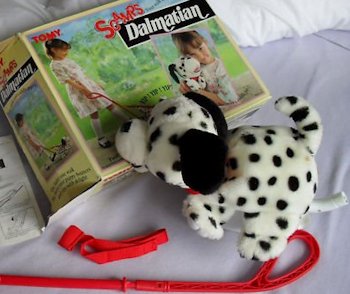 I'm looking for Dalmatian model of the TOMY Scamps, The Talk a Walk and Cuddle Puppy. Based on my best recollection, I was given this toy 1989. It came with a 2-wheeled walker that you could attached it to and bring out for walks. When pushed, the walker emits a sound that goes, "Yip Yip Yip", mimicking a puppy's bark.
The Dalmatian puppy is white with black spots all over him. His tail is short and is slightly curved upwards. The paws are flat with a strip of Velcro attached underneath each of them. His ears are oval-shaped, black and floppy. The mouth is open, with a pink colored piece of fabric shaped like a tongue attached inside it. He also comes with a red collar. The fabric on the underside of his belly is non-fur, with a small opening, that allows the walker apparatus to slide into it, and make his head bounce up and down when bringing him out for a walk.
This puppy was my best friend since I was 3, and I brought him everywhere I went. From the hospital when I had meningitis, to school, shopping centers, and all sorts of other adventures. He was with me through my parents' divorce; when I was too young to understand what was going on, he was there as my friend, my guardian and to bring me to a place of solace whenever I heard them fighting outside.
He holds a very special place in my heart, and I have never stopped searching for him. I named him "Spot", and when I first starting looking for him I had no idea who made him or what his original brand name was. It has taken me nearly 5 years of searching to have all the information I have now.
I lost him when I moved to a new home and have been searching for him ever since. He has a friend, a green and white teddy bear named Snowie who has been waiting for him at home ever since, as well. We miss him greatly and hope someone can aid in reuniting us together again.
Thanks,
Alvin
If you can help Alvin find this 1989 Tomy Scamps DALMATIAN Walking Dog, THIS SEARCH REQUEST IS NO LONGER ACTIVELY MANAGED. Please use Our FREE FACEBOOK GROUP, including the POST CODE #26017