FOUND – 70's? Snoopy PUPPY LOVE Dog Red Shirt Yellow Print Top Priority
Jody is looking for the Knickerbocker Puppy Love dog shown in the photo.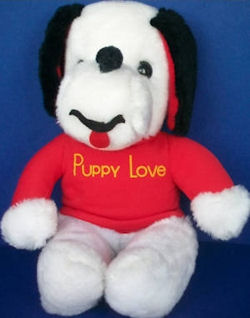 I'm looking for a faux (I think) white Snoopy dog with long droopy black ears. I think it was from the late 70's or 80's. He was about 12-14 inches in height (I now know I need to find the bigger version – 20-22 inches maybe). He was firmly stuffed, but you could move his arms and legs, and he had a puffy nose. It was sewn on the tip of the white muzzle, with a black puffy ball on top for the actual nose.
He had a built in red shirt with yellow words on his shirt… His shirt says Puppy Love … The material for his shirt was a bit shimmery, or silky like, maybe with red and yellow letters.
I have to find him. My mom passed away recently, and this is the only thing that brings back childhood memories. She always kissed him and me goodnight, and I slept with him like a small pillow.
Please Help Me, Please Please Please!!
Jody
If you can help Jody find this 70's? Snoopy PUPPY LOVE Dog Red Shirt Yellow Print, THIS SEARCH REQUEST IS NO LONGER ACTIVELY MANAGED. Please use Our FREE FACEBOOK GROUP, including the POST CODE #28901
Originally posted [postdate format="M j, Y"]