Searching – Large GUND White Bear with Pink Polka Dot Hair Bow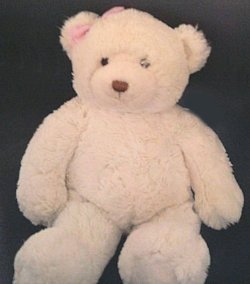 I'm looking for a large Gund white bear with a pink polka dot bow on her ear. I wanna say around 18 inches long. I'm not sure of its age. She's at least two years old, but could be older.
I got her two years ago from my best friend who lives far away. While I was at Cedar Point for a couple days, my mom took her to the Goodwill, and I'm having trouble sleeping without her. She is my all time favorite stuffed animal.
Thanks,
Christen
If you can help Christen find this Large GUND White Bear with Pink Polka Dot Hair Bow, THIS SEARCH REQUEST IS NO LONGER ACTIVELY MANAGED. Please use Our FREE FACEBOOK GROUP, including the POST CODE #29674