Searching – No. 2790 RUSS Cream Blue Cross Lamb
We have a mailing list of people looking for this lamb.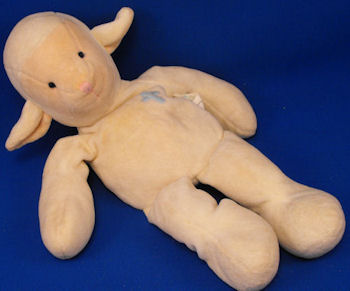 I'm looking for a RUSS No. 2790 plush 11 inch cream beanie velour lamb named LOVE, with tan velour face and ears. There's a BLUE CROSS embroidered on the chest.
My 8 year old daughter got this lamb when she was born and called it Lamby. She just said to me the other day she would like to get a replacement, as hers has lost most of the velour fabric from multiple washings. Additionally, Lamby had an ear chewed off by one of our dogs (re-sewn back on) and had to have its eyes replaced when the stitching came out. Even with all of that, my daughter still loves her Lamby and sleeps with it every night.
Thanks,
Scott
If you can help Scott find this No. 2790 RUSS Cream Blue Cross Lamb, THIS SEARCH REQUEST IS NO LONGER ACTIVELY MANAGED. Please use Our FREE FACEBOOK GROUP, including the POST CODE #29774