FOUND – Eden White Bear Blue Hood Brown Baby Bear Patch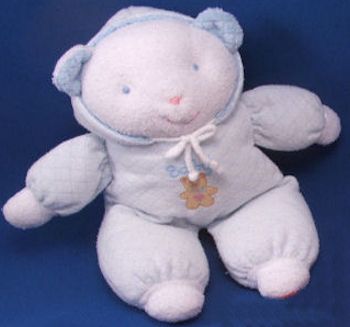 I'm looking for an Eden white baby teddy bear wearing a pastel blue hooded outfit made of inside out waffle texture chenille. The word Baby and a brown teddy bear are embroidered on the chest.
I had one since infancy that I loved and hoped to keep forever, until sadly, I lost it on a family vacation. The room service wasn't exactly careful when changing the sheets, and somehow my poor bear got caught up in the sheets and got lost. I'd really love to find a new one just like it. I've looked everywhere, and I've finally found one here!
Thanks,
Sara
If you can help Sara find this Eden White Bear Blue Hood Brown Baby Bear Patch, THIS SEARCH REQUEST IS NO LONGER ACTIVELY MANAGED. Please use Our FREE FACEBOOK GROUP, including the POST CODE #30141
Originally posted [postdate format="M j, Y"]