Searching – Small 1991 Pink Pig with Blue Eyes
The jacket in the photo is NOT original. My daughter added the plaid jacket during elementary school.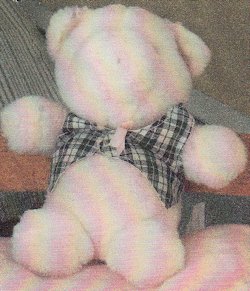 I'm looking for a 5 or 6 inch 1991 pink pig with blue eyes. My older daughter thinks he's a Dakin. I think he was a Gund or a Russ.
Piggy has been my daughter's "room mate" since she came home from Brooklyn's Lutheran Hospital in 1991. Unfortunately, he didn't make it home from Binghamton last May. She really missed the little guy.
If Piggy is gone, can someone find one of his brothers to come live in my daughter's dorm?
Thanks,
Donna
If you can help Donna find this Small 1991 Pink Pig with Blue Eyes, THIS SEARCH REQUEST IS NO LONGER ACTIVELY MANAGED. Please use Our FREE FACEBOOK GROUP, including the POST CODE #30161