Searching – LARGE CREAM Happiness Express Snoozems BEAR PINK PAJAMAS
We still have a mailing list of people looking for the Snoozems animals.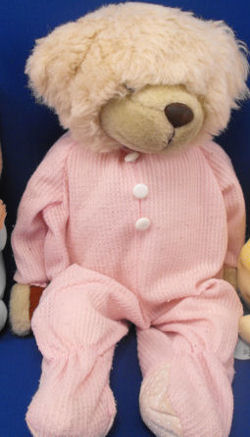 I'm looking for a large heavy beige bear called LITTLE SNOOZEMS. He has a tan velour muzzle with brown nose and paws. He's wearing a pink thermal sleeper with white buttons and white footies. The bear was made by HAPPINESS EXPRESS.
My girlfriend's favorite bear was Snoozems when she was growing up. She lost him and has wanted one ever since and cannot find one. Her birthday is the beginning of November, and I would love to give her a Snoozems. Please help!
Thanks,
Dallas
If you can help Dallas find this LARGE CREAM Happiness Express Snoozems BEAR in PINK THERMAL PAJAMAS, THIS SEARCH REQUEST IS NO LONGER ACTIVELY MANAGED. Please use Our FREE FACEBOOK GROUP, including the POST CODE #30206