Searching – Fisher Price SLUMBER BABIES YELLOW LAMB
We still have a mailing list of people looking for the various Slumber Babies.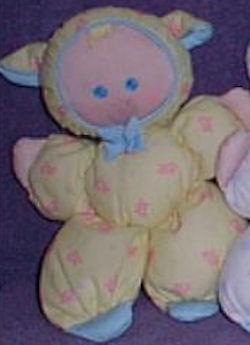 I'm looking for a Fisher Price yellow Slumber Babies lamb from the early 90′s.
It's a childhood toy my girlfriend has had since birth, but her little lamb is sadly almost completely fallen apart with age, and she is going to be upset when it does.
She has always talked about wanting another one but never being able to find one, so after a bit of Google searching I found this website and thought I would try. Hopefully if one can be found soon, it would make an amazing Christmas present for her.
Thanks,
Matt
If you can help Matt find this Fisher Price SLUMBER BABIES YELLOW LAMB, THIS SEARCH REQUEST IS NO LONGER ACTIVELY MANAGED. Please use Our FREE FACEBOOK GROUP, including the POST CODE #30238