Searching – 90s Happiness Express Snoozems Hippo and Elephant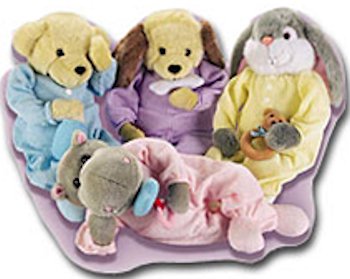 I'm looking for two 90s Happiness Express stuffed animals. The gray hippo is wearing pink thermal pajamas. The elephant has a white head, no tusks and striped pajamas with little barns on them.
These Snoozems are for a friend of mine who had them when she was a kid, and she desperately wants them back.
I haven't been able to find any pictures of this elephant, but my friend remembers it quite well, and she insists it was a Happiness Express Snoozems … she showed me pictures of the other ones and said it was exactly like them. She had the hippo, too, so I don't think she is confused with the elephant being a knockoff of the Snoozems.
If anyone can help us out, it would be greatly appreciated.
Thanks,
Dann
If you can help Dann find the 90s Happiness Express Snoozems Hippo and Elephant, THIS SEARCH REQUEST IS NO LONGER ACTIVELY MANAGED. Please use Our FREE FACEBOOK GROUP, including the POST CODE #30675