Searching – 2003 Floppy RUSS PINK CAT with PURPLE STRIPES & BIG EARS
Yeida is STILL looking for this cat and we now have a mailing list of others looking, too!
My daughter lost her beloved pink cat in San Diego, California at Sea World on May 27,2007. Bonko is so important to my daughter, just because it is her first best friend that has been with her since she was a newborn.

It was made by Russ. There are purple stripes on the body, and I bought it at Mervyn's.

In the 4 years that he has been part of our family we have lost him I don't know how many times – he has been crushed by a car, and we lost it in Puerto Rico. But we always found him, no matter what. But not this time. But we have faith, like always.

Most important, Bonko has been there in good times and bad times, comforting us all the way. It may sound crazy, but for us he is part of our family, and my daughter misses him a lot. "It's hard to sleep without him," she says.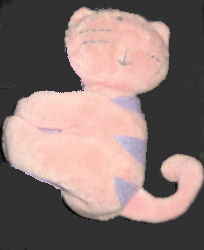 This is an edited photo of the rattle version of this cat. If you can help Yeida find this RUSS Floppy Pink Cat with Purple Stripes, THIS SEARCH REQUEST IS NO LONGER ACTIVELY MANAGED. Please use Our FREE FACEBOOK GROUP, including the POST CODE #080207-5,
Searching for a toy – Originally posted Tuesday – 08/02/2007