Can't Find that Old Stuffed Lovey?? Susan Can RE-CREATE It!!
While I was doing some research, trying to help a reader find a toy from the early 50's, I decided to try to find an artist who could make the plush toy he needed to order. I was very glad to find Susan's Sew-Nique, and I have an idea there are several more people who have left requests for old toys on this blog who would be interested in talking to Susan about bringing a much loved memory from childhood back to life, such as this one. (Click on the picture to read all about this reunion.)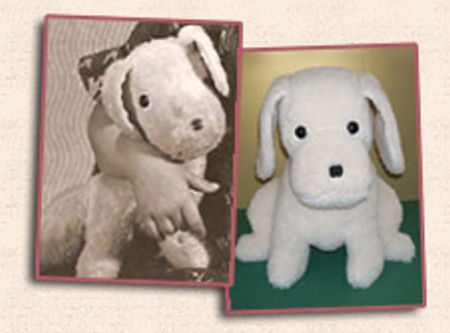 So, I wrote her to get an idea of how much she charges generally for making something from a photo. Please don't hold her to these exact prices if you decide to do business with her, as she obviously has a lot of talent, and deserves to be properly compensated for her materials and skill.
Here's her reply:
Hi Rosemary! Have you checked out the "Special Orders" page of my website?

There are a few examples on it of the type of "recreated" dolls and animals I have done in the last four years (since going on the internet). The "Santa Mouse" was one that you won't see posted on the "Stuffed Animals" page…it was very hard to recreate. I think I charged under $30 for that one.The "Boo-Boo" dog was around $30 also. And the yellow "chick" (or duck?) was about $20.

I can not copy certain patented items and then post them on my website – such as the original Raggedy Ann and Andy, Disney characters, or even Gund or other toy makers. But I will work with the customer to make a similar product, though there will be no photos of my finished product on the website.

My prices vary from $10 to as much as $40. Much of the pricing is based on whether I have a pattern similar in design to what is needed, or if I have to start with pencil and graph paper and design it, then make a muslin "dummy", and then cut in to the expensive fake fur fabric (which can go as high as $60/yard).

I am always delighted to give a price estimate if anyone would like to email me a photo (jpeg file). When they send the photo, it saves time if they can give as many details as possible, such as the size of the item, fabric types, etc.

But I will emphasize that I sometimes have a work schedule out as far as 12 weeks. Right now, it is between 6 and 8 weeks. And a couple other "notes": I only set a "special order" item on my work schedule after I have a deposit of 50% (in other words, first come, first served). When the toy is for a child, I also like to mention that the toy might not be "accepted" as a substitute no matter how close the copy looks. (And this can be important for 'special needs children'.) The texture, stuffing and even the smell can make a difference to a discerning end user. I cannot guarantee acceptance, only a near look-alike. So far, that has not been a problem. Sometimes I have to ask for a lot of details, but it gets the job done.

Thank you for your interest.

Susan Koeppel
Lake Mills, WI 53551
If you, or someone you know, is looking for an old plush animal or doll that would be almost impossible to find, Susan may just be able to re-create one for you!
If you end up buying something from her that she makes for you from a photo, would you please let us know?
Contact Us, and I'll tell you how to send me the photo of the original and her recreation, or, if you prefer, Comment Here.