DISCONTINUED – Hallmark GUND??? Small WHITE BUNNY Wearing a BURGUNDY BOLO TIE
One of our very helpful searchers named Ana had what seemed to be Miffy, and I connected her with Bee. She wrote:
Rosemary,
I believe I had found another one from my collection. This one is for Bee.
I have the white bunny (I thought mine was a dog all along) that matches the description. I guess, this is what Miffy looks like when she's brand new. The white bunny has flocked burgundy nose, some had rubbed off and started to look like Miffy's nose. It has a round tail with working rattle inside.
For anybody that wants the information, this bunny is made by Gund in 1982.
Thanks,
Ana
Now Bee has replied:
Ana sent me the bunny. I love her. She looks just like my Miffy, but she isn't the exact same one I had as a child. The one I received is a bit bigger and the bell is in the tail. I was wondering if you would be willing to repost Miffy for me. Thanks a bunch!
Bee

I am looking for a stuffed bunny. Some say that it looks like a lamb though. It was purchased in 1982 or 1983 from Hallmark I believe, at least that's what my mom says.

It is about 6 inches tall with floppy ears and a burgundy Texan style bolo tie and it is sewn into the neck area. She has a bell in her bottom. Please help me find a new Miffy (NOT the Dick Braun Miffy). She's been my best friend for years, and I would like her back.

Thank you,
Bee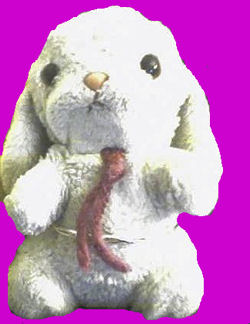 If you can help Bee find this 6″ Hallmark Long Eared White Bunny Wearing a Burgundy Bolo Tie, THIS SEARCH REQUEST IS NO LONGER ACTIVELY MANAGED. Please use Our FREE FACEBOOK GROUP, including #071208-2 in the subject, .
Originally posted 07/12/2008