FOUND but STILL Searching – Inspirio WHITE For This Child I Prayed SLEEPING LAMB
Thanks to Tami we now know that this is the For This I Prayed Lamb, that appears to be out of stock everywhere. We now have a mailing list of people looking for this same lamb!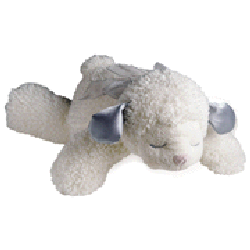 Mary writes:
My four year old granddaughter's "Lambie" is more loved and worn than the Velveteen
Rabbit. I would like a back-up one for her when this one finally falls apart, and I'd like to keep another one for a future grandchild. Truth be told, I am as attached to "Lambie" as my grand-daughter is and can't bear the thought of it being lost or falling apart either!

Thank you very much for you help.

Kate writes:
We left our house today with the lamb but after going out to eat at a restaurant, discovered upon leaving that it was gone. We searched everywhere. This is my daughter's lovey. We don't really go anywhere without it.

I too have searched the internet for a couple of hours, but no luck. The lamb was a gift that was either bought at Mardel Christian and Educational Supply or Family Christian Stores. My friend who gave it to my daughter isn't sure at which one she picked it up. After calling numerous Mardel stores, a customer service rep said that Inspirio has gone out of business, and they have not carried their products for a while. The lamb was purchased a couple of years ago. Thus far, I have emailed these websites about the lamb:

customerservice@audiblefaith.com
info@biggerbooks.com

I've submitted an online form questionnaire with www.christianbook.com in regards to the item also. I'll keep you posted if I have any luck!
FOUND
My son's Lamby went through the lawnmower this weekend, and he is very very upset. All that is left is an ear and a foot. He is 20 months old.

Lamby had silver/bluish silk ears and pads of feet. There was 'God Bless You' embroidered on his left back foot. He had beans in his feet, and he had a light blue ribbon around his neck. He was at least 12″ long, maybe a little longer…

I have spent hours (no Joke) online looking for another one. No luck. I found your site, and thought I have nothing else to lose!

Thanks for your time!!! My little boy is heartbroken!

Emily
If you can help find this Inspirio White For this Child I Prayed Sleeping Lamb, THIS SEARCH REQUEST IS NO LONGER ACTIVELY MANAGED. Please use Our FREE FACEBOOK GROUP, including POST CODE #110408-2 in the subject
Searching for a toy – Originally posted 11/04/2008