FOUND – BLOND & BRUNETTE DOLL Pink Dress with FLOWERS on Top Wearing a HAT
We have a mailing list of people looking for this blond or brunette doll with ruffled top.
Rosemary,
I got it!!!! Thank you sooooooo much!
Hooray!!!
Have a very Merry Christmas!!!!
Connie
---

Hello, I am actually looking for a Carter's pink baby doll rattle. It is wearing a hat and there's brown hair coming from it. Also she is wearing like a shirt that has pink flowers on it.

They were carrying these baby dolls at Target and Target discontinued selling these. My daughter can't go to sleep without it, and now she actually bit holes in the bottom of the feet, so I had to patch the feet up.

If you come across this baby doll please let me know.

Thank you,

Tiffany

---
Danielle is searching for the blond version, too. FOUND!!!
I am looking for a Just One Year Carter baby doll. I can't find her anywhere. She has blond yarn strands of hair under her pink hat that has stripes along the soft rim, with a small satin bow on top. She has a little pink dress on that has 5 embroidered flowers and trim that is a darker pink around the dress front and edges.

She was given this doll in 2007 around April when she was born. I'm her nanny and her parents and I have searched for months with no luck. Reading from you that Carter's changes every 6 months, now I know why we can't find this doll. Oh and the feet are the soft satin bottoms, which is very important, because she holds that part to her face.

Thanks you so much for your time. I really hope you can help.

Danielle
And now Mike writes:
My 2 year old daughter practically can't live without her dolly, and it is on its last leg, with patches and stitched repairs. My daughter and I both thank you SO MUCH in advance.
Tiffany needs the brown hair version and Danielle, Becky, AND Mike are all looking for the blond hair version of this doll.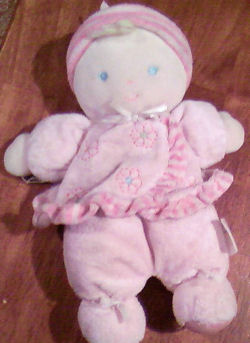 If you can help Tiffany find this Carter's Brown Hair Doll wearing a Pink Flower Dress and a Hat OR Mike and Becky find this same doll with Blond Hair, THIS SEARCH REQUEST IS NO LONGER ACTIVELY MANAGED. Please use Our FREE FACEBOOK GROUP, including #082408-6,
Originally posted 08/24/2008