Melissa is still looking, and we have a mailing list of people looking for the different forms of this dog.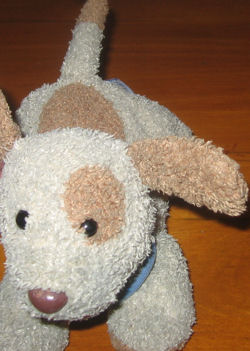 I am looking for a Carter's "Dog Gone Cute" puppy dog plush animal from the Carter's "Dog Gone Cute" collection. It is just a plush, not a rattle, and no music. It is mostly tan with light brown markings: ears, eye patch, one spot on the top of the back, tip of tail and paws. It has beans inside. It has a tan collar with the "Dog Gone Cute" on it. It is about 9 inches from nose to tail.
Ours got left on vacation, and the hotel wouldn't mail it!! I can't find it on eBay or Craigslist…please let me know if you have any luck! We're desperate!
Thanks,
Melissa
If you can help Melissa find this Carter's Dog Gone Cute Tan Dog with Brown Eye Patch & Spot, THIS SEARCH REQUEST IS NO LONGER ACTIVELY MANAGED. Please use Our FREE FACEBOOK GROUP, including the POST CODE #15661,
Searching for a toy – Originally posted Wednesday – 04/28/2010