We now have a mailing list for this doll.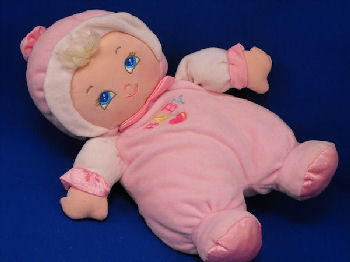 I'm looking for a Goldberger BABY'S FIRST BUNDLE OF JOY No. BB175 12 inch blond yarn hair doll with large blue eyes. She's wearing a pink velour sleeper with a pink satin collar, white sleeves, pink satin cuffs, and footies. The word BABY and a HEART are embroidered on her chest, and she's wearing a pink bonnet with a white velour brim and a white pom pom on top, with a pink satin ruffle.
My mom bought this doll for my daughter when Chloe was about 6 months old. Chloe immediately became attached to Dolly. I tried washing Dolly, and it just didn't work. So I had to go buy another Dolly, and we put the old one up in a box (we were moving soon). My daughter is 9 years old now and is still very attached to Dolly. Dolly goes everywhere with us. She has seen the Alamo and been to Disney World three times!
JC Penney's used to sell them pretty cheap, but when they stopped carrying them, I had to order straight from Goldberger. Then Goldberger stopped making them. So I've had to resort to eBay and the Internet, which is really expensive. But Dolly is so important to Chloe since my mom had her stroke in 2005.
Chloe doesn't know we replace Dolly. She thinks I give her a bath in the nighttime. We joke that Chloe will graduate high school and get married with Dolly tucked under her arm! We have kept all the old ones, except we put one in my father-in-law's casket at his funeral. My mom was cremated, or she would have an old Dolly, too. We plan to give Chloe the old Dolly box one day down the road, too, when the time is right.
Thanks,
Janna
If you can help Janna find this Goldberger's BABY'S FIRST BUNDLE OF JOY Blond BABY Doll, THIS SEARCH REQUEST IS NO LONGER ACTIVELY MANAGED. Please use Our FREE FACEBOOK GROUP, including the POST CODE #29767