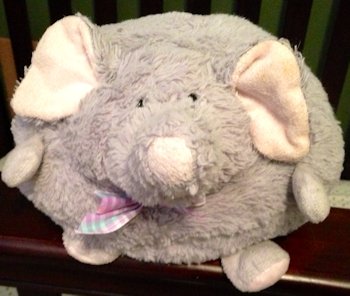 I'm looking for a 2010 Hugfun International elephant we bought that Christmas. I have contacted the company (Hugfun international) who emailed me to let me know it was only distributed to Dollar general stores. The elephant itself is about 8 inches round. It's a soft polyester, originally a fleecy feel.
"Fint" makes my 14 month old's world go 'round! He absolutely loves him, will not/cannot sleep without him! He has since birth! But Fint gets quite stinky and gets washed twice a week, so he is dying a slow painful death.
We neeeeeeeeeeed replacements/backups!
Thanks,
Shannon
If you can help Shannon find this 2010 Hugfun Round Gray Elephant, THIS SEARCH REQUEST IS NO LONGER ACTIVELY MANAGED. Please use Our FREE FACEBOOK GROUP, including the POST CODE #30560