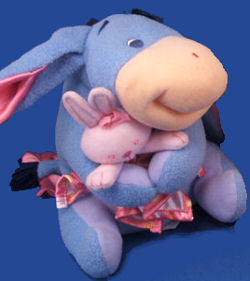 Well loved plush animals and soft dolls lead a hard life. Whether they sleep with you, tag along to play dates or Day Care, play hide and seek in the back yard, or just cuddle up by the TV sharing snacks, they can really get dirty. Even the ones we "grownups" have out for "show" will eventually get dusty. So how do you clean plush lovies?
If you're collecting your stuffed animals as an investment, by all means protect them, take good care of the swing tags, and don't wash them.
But for the rest of us, who love on our plush pals, here are some suggestions on how to clean plush lovies.
Pre-Treat Stains
Occasionally, there will be a need to clean an area of soil, for which we use a pre-treat such as Shout or Resolve.
Hand Wash
Sometimes we find a plush lovie with just a little light soil from being on a shelf. In that case, we may hand wash it with mild dishwashing liquid and let it air dry.
Machine Wash & Air Dry Instructions
There are symbols on the tush tag of many toys that tell you how to clean that dirty toy. They typically tell you if you can wash them, the temperature for the wash water, if you can bleach it, and if it can dry in the dryer.
If the stuffed animal is machine washable, we used to put it in a pillow case and tie the loose end with string. But now I use zipper pouches intended to protect delicates in the wash. Run the lovie through the washing machine on gentle cycle in cold water, with detergent, but no bleach. We use dye-free and scent-free detergents, like Tide or All Clear.
We often place the plush lovie on a large absorbent towel or rack to dry. If the lovie has a fluffy hair tuft it will probably clump and ruin if you machine dry it.
If you are willing to take a chance on a really badly soiled or grayed out lovie, try one of the Oxy style detergents. Let it soak no longer than necessary. And be sure to rinse well.
Tumble Dry Instructions
There are a few types of lovies we have found, however, whose colors will bleed if allowed to air dry. We put those in the dryer for as short a time as possible to get them dry. For instance, Fisher Price Rumples have a logo on the foot that will bleed if air dried. Keep possible bleeding in mind if the lovie has strong colors, particularly red.
We do encourage you to wash any previously owned toy before giving it to a young child to play with.