90′s? NEON GREEN Lying Down CAT? BEAR? PINK YELLOW MUZZLE, EARS, FEET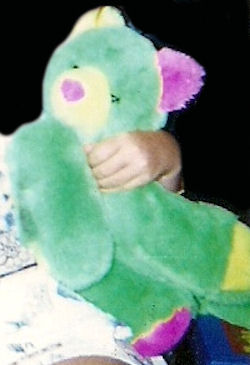 Yvette is also looking for this animal that we now suspect is really a cat.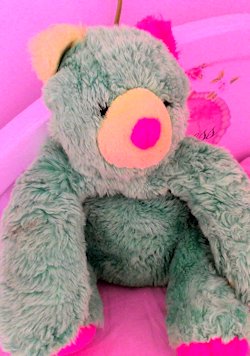 I'm looking for a neon green, pink, and yellow floppy furry bear. His front legs were longer than his back legs, and he lay on his tummy. He had solid black eyes, and his tail was a little long, even though he was a bear. I do not know his maker or the year that he was made but a friend that I was best friends with in the 90s gave this to me when I had my first daughter in 2000.
We have since learned that this MAY be a Stuffins animal. The nose was plush, not hard, and it's about 18-20 inches long.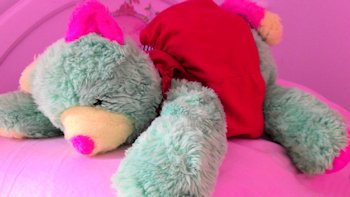 (Pink dress is not original.)
I found this website and the other post when I was trying to see if I can find another bear for my daughter. My youngest daughter is now super attached to it and calls it Princess Peach lol.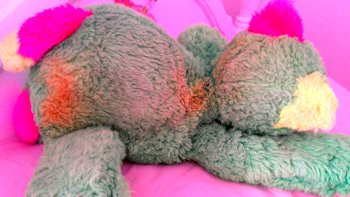 We recently found out she is severely allergic to dust mites and had to get rid of a huge amount of stuffed animals, but of course no way would she let us get rid of her Princess Peach. So we put her in the dryer to kill off the dust mites. Well, I think hubby put it in too long and too hot and it singed parts of her fur. She has been crying for hours! It was in perfect condition before that. So I am trying and hoping I can find another one. I checked for a tag and could not find one. No brand either.
Thanks,
Jessica
If you can help Jessica find this 90′s? NEON GREEN Floppy Lying Down CAT? BEAR with PINK & YELLOW MUZZLE, EARS & FEET, THIS SEARCH REQUEST IS NO LONGER ACTIVELY MANAGED. Please use Our FREE FACEBOOK GROUP, including the POST CODE #25981