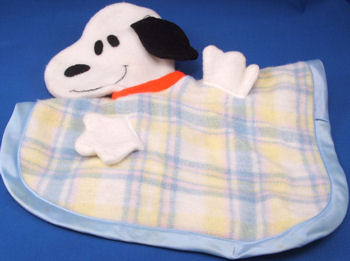 Our Fabulous Finders work hard to help each and every Searcher. But if a replacement seems to be nowhere in sight, you might want to consider a plush replica or a painting of that childhood favorite lovie.
We've been able to help several people find this 80's Knickerbocker 14″ blankie with a white knit SNOOPY dog head and paws in the center. It's a pastel blue plaid blankie with blue satin binding. There's a head hole for a puppet, but not in the hands.
But there are other requests for help here on Plush Memories for the precious lovies of childhood memories that we have not been able to find. Sometimes they don't even have a photo, but can only give us what they remember about their favorite childhood toy. Those are usually the hardest to find, but sometimes even a photo isn't enough to be able to locate one.
If all else fails…. We have a long file listing various re-creators and refurbishers on our free Facebook group, Plush memories Lost Toy Search Service.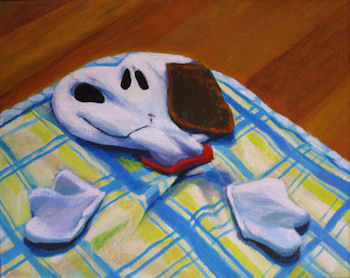 But if all you have is a photo, and you can't give enough information to create a replica…then maybe Jennifer from Your Toy Portrait can help. Here's her portrait of the Snoopy blankie from the 80's that she painted for someone. Maybe sa painting from her can help you hold onto the memory of your rapidly disintegrating childhood friend.