Do You Buy Dolls with Your Child's Skin and Hair Color?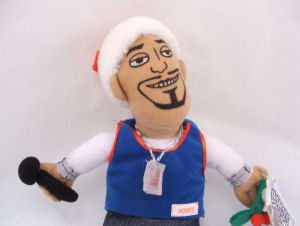 My hubby came in today with a HUGE surprise for me from his weekend foray to the local yard sales and flea markets. He made me close my eyes, and then he put her in my hands. What should I find, but a doll that our younger daughter has had since she was 4 years old! She still has her doll to this day. We always called her "Little Emilie", because she looks just like her.
I got to thinking about the choices we make when buying dolls.

We have several Latino soft dolls from the Homies series for sale, and we once sold a Piccaninny doll pattern.

Christmas Homies Collectible Doll

Sometimes we sell Dora the Explorer dolls. And we gave an Asian soft doll to a Chinese friend's child a few years ago.

So, do you always buy dolls of the same ethnicity as your child? Do you consciously buy dolls with different ethnicities?