FOUND – Dunkin Donuts Premium WHITE BUNNY with PINK SATIN Lining in EARS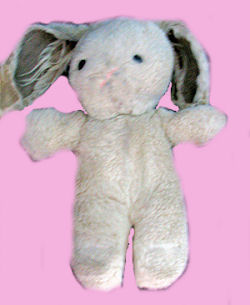 I saw the article on MSNBC.com and knew I just had to ask–does anyone, anywhere, know where I can replace the "lovey" my son got when he was a baby?

It would have been Easter 1991, and it is a small white bunny, 6-7″, with ears lined with pink satin, that was a premium with a purchase of Dunkin Donuts. I'd post a picture but no one would recognise what this looked like new after having been dragged around by my (now 17 yo) son for several years.

I would LOVE to have a replacement for this well-loved member of our family!

If you can help Susan find this Dunkin Donut premium giveaway white bunny with pink satin, THIS SEARCH REQUEST IS NO LONGER ACTIVELY MANAGED. Please use Our FREE FACEBOOK GROUP, including #011608-4 in the subject, .
Searching for a toy – Originally posted 01/16/2008
PLEASE BE SURE YOU USE AN EMAIL ADDRESS THAT IS CORRECT, AND THAT YOU WILL BE USING FOR A LONG TIME!!
I can't help you if I can't contact you!!