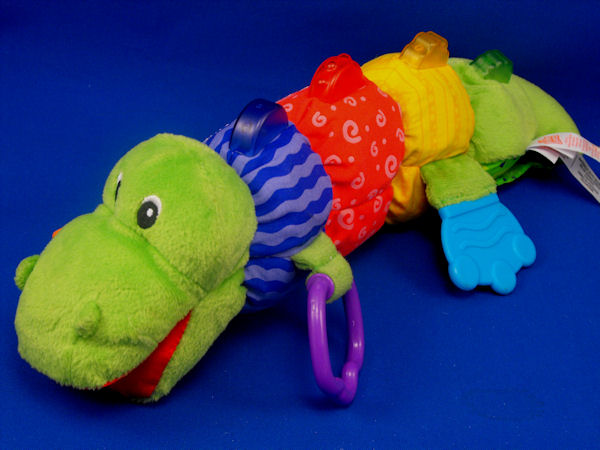 I'm looking for a Kids II Bright Starts plush 16 inch green velour educational learning activity talking alligator. It has a red satin mouth that squeaks when pressed. If you press the nose it plays music and lights up. It has one orange and one blue teether foot and one purple and one red rattle foot. It has blue, red, and yellow print sections.

Press, and the plastic scales, fins on each section light up and say the color name in English, Spanish, and French. The words are embroidered on each section. There's a Velcro battery pouch in the tail with an on off switch.

My son with autism had one, but after so many uses it doesn't work. I need to replace it.


Thank you,

Catherine
If you can help Catherine find this KIDS II Bright Starts XL Languages Colors Alligator Lights Crinkle, THIS SEARCH REQUEST IS NO LONGER ACTIVELY MANAGED. Please use Our FREE FACEBOOK GROUP, including the POST CODE #23581, – PLEASE USE THE COMMENT BOX.
Searching for a toy – Originally posted Friday – 10/05/2012
Please be sure you Contact US with an email address that is correct, and that you will be using for a long time!! I can't help you if I can't contact you!!