Kimberly has supplied the brand. This giraffe blankie is made by Aurora Baby and this particular giraffe is called Giggles.
We have a mailing list of people looking for this blankie.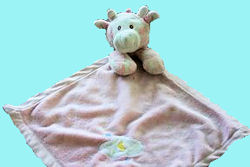 My daughter was given this giraffe lovey blanket as an infant and it is by far her most favorite thing. It is pink and white, with the giraffe head and arms on one corner. There is a cloud with a yellow moon applique on the blankie, with two blue stars on either side.
The poor giraffe is dying a slow death, and I need to replace her. But because I am a dork I CUT THE TAG off. So, I have no idea the brand or maker of this giraffe.
Thanks so much!
Marge
If you recognize the brand, or can help Marge find this Aurora Baby Pink and White Giraffe Blankie with Moon & Cloud, THIS SEARCH REQUEST IS NO LONGER ACTIVELY MANAGED. Please use Our FREE FACEBOOK GROUP, including #071708-1,
Searching for a toy – Originally posted 07/17/2008