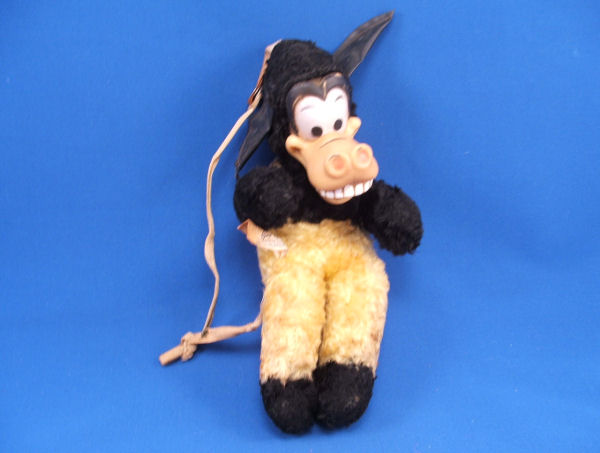 Long before licensing movie characters became the norm, GUND made the first stuffed versions of several cartoon characters, including Horace Horsecollar. This fine Estate item would be a prized possession of any serious Disneyana Collector.
This baby toy still has the original elastic cord that was used to tie it to a crib or a stroller. The inside is Sani-Foam rubber, his body is covered with short gold and black fur, and the head is painted rubber.
The lower part of his face is pink rubber, with an open mouth, showing off his big white teeth and red tongue, and huge flared pink nostrils. The upper part of his face is painted white, with upraised black eyebrows and black circles for his eyes.
His legs are slightly bent, as if he were about to sit down. Amazingly, the body is still soft.
The first Mickey Mouse cartoon with Horace was "The Plow Boy" in 1929. According to Wikipedia, "he appeared frequently from 1930 to 1932 and less frequently afterward, making his final classic-era bow in 1942." I have based the age of this vintage Horace Horse Collar on that information, help from a Disney collector, and what we were told at the Estate Sale about the man who had kept this childhood toy all these years.
Another indication of the age of this cartoon character doll is the old cursive "g" rabbit GUND logo on the cloth tag.
Horace measures about 9 1/2″ long and 4″ wide.
The cloth tag is wrinkled and shows age darkening, but is completely readable. All the fur is colorful and intact. The tips of some areas of the gold color have darkened, but it does not look like soil, but more like age darkening.
The face is in excellent condition, with vibrant colors and no scratches or paint loss. The ears are made of some kind of stiffened fabric, and the right ear has been flattened against his head.
When you remember that this extremely rare doll is about 70 years old, Horace Horsecollar is in excellent condition.