I've received a very excited letter from Jane about the Giraffe Snuzzles replica that Susan made for her.



Well she's just wonderful! What a sweet face! Can't wait to meet my new little one. What a clever lady!! :o}

Jane
I have recommended Susan to a lot of people who are searching for extremely hard to find lovies, and those, like the Snuzzles, that are sometimes close to $200 when they are found. For comparison, here's a photo of the "real" giraffe.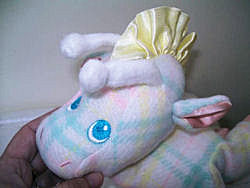 She has made all kinds of replicas for people who have asked for help on our Search Service, and everyone has been just as happy with the results as Jane is.
I sent her a real Snuzzles many years ago, and she made a pattern from it. She has since made every one of the Snuzzles for one person or another.
Eventually she could not find fabric that was exactly like the real Playskool Snuzzle fabric. So now she makes her Snuzzles replicas with other sturdy baby blnaket material. And she still shows a gallery of various replicas she has made on her website. She has even made replicas from photos.
Our estimate is that about 40% of the people who asked for help on this original Search Service website actually found the lovie they were looking for. I'm not sure what kind of percentage of our current free Facebook Plush Memories Lost Toy Search Service requests have been successful – but it's a lot.
But there are always going to be some people who have to settle for a Snuzzles replica, either because it can't be found or it's just too expensive.