This is an edited photo to show Lion stitched on the chest, NOT the more common one with a star patch.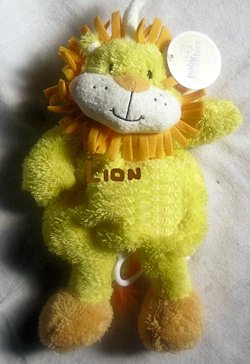 I'm looking for a Baby Adventures pull string musical yellow and orange lion purchased at Macy's in 2008. The one we have has the word 'LION' stitched on the body.
My 5 year old son has loved him dearly from babyhood. He takes him everywhere, and everyone who knows him knows about his 'Lion'. His twin brother has the 'Elephant' version. Their older brother gave these to them as a gift when they were born. As his mom, I am also devastated to not be able to find this, as it is such a huge part of his life and childhood.
We rented a home on Lake Winnipesaukee in Moultonborough, New Hampshire, and on the day we left, my son unpacked him, and we accidentally left him behind when we left on 8/17/13. The cleaners found him, but the owners had their own cleaners come in as well and now he is missing and no one claims to have done anything with him. While we would love our original back, I would settle for a replacement.
Thanks,
Stacey
If you can help Stacey find this Musical 2008 Baby Adventures Lion Yellow Orange, THIS SEARCH REQUEST IS NO LONGER ACTIVELY MANAGED. Please use Our FREE FACEBOOK GROUP, including the POST CODE #30173