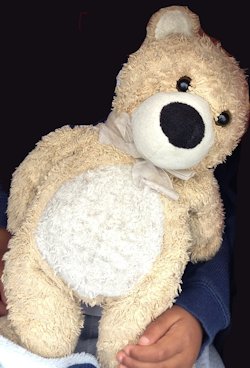 I'm looking for a tan and cream chenille bear with a large black nose, approximately 13 inches long. It has cream inside the ears, cream velour around the huge nose, cream chenille stomach, large cream bow, and cream on the soles of his feet. We believe the brand was SugarLoaf.
The bear is about 3 years old, or at least that is how long we've had it. It is wearing out at the tip of one of the ears, and beads have been slowly trickling out.
This lovie is named Barnaby, but called "B" by my 3 year old son. My son brought this bear with him everywhere and would never leave the house without him or go to bed without him. We lost him recently and at night he has woken up frantically calling out his name, and I have caught him telling himself, quietly, over and over, "B is my best friend."
My son loves this bear dearly and misses his little friend. It's been his security blanket for the last 2 years. He uses B for companionship, and he gives my son courage and security when he has to do something new or a little scary, like walking to the bathroom down the hallway when it is dark.
Thanks,
Rachel
If you can help Rachel find this 2000 Tan Cream Bear Large Black Nose, THIS SEARCH REQUEST IS NO LONGER ACTIVELY MANAGED. Please use Our FREE FACEBOOK GROUP, including the POST CODE #30219