FOUND – SCARECROW & FLYING PIG – MUMFIE the ELEPHANT's FRIENDS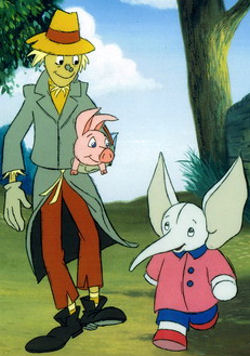 We were able to help Nola find the Scarecrow and the Pig, but Marcela is still looking for the Mumfie elephant.
Hi Rosemary,

With your help I found Mumfie the Elephant in the stuffed toy version. This elephant is from the books and movies by Katherine Tozar and Britt Allcroft. We now know that Mumfie is a Gund plush, so the Scarecrow and Pig probably are, too. I'm still searching for Pinkey the Pig and Scarecrow from the Mumfie stories in plush versions. Pinkey was evidently made in two different sizes, but Scarecrow may have only been made in one size.

I have recently become familiar with the Mumfie stories (books and VHS tapes), and I am totally enthralled with this little guy! He is more adorable than I can express to you – what an absolute charmer!




Thank you!

Nola
If you can help Nola find the GUND Mumfie's Friends, the Scarecrow and the Pig, THIS SEARCH REQUEST IS NO LONGER ACTIVELY MANAGED. Please use Our FREE FACEBOOK GROUP, including POST CODE #073109-2 in the subject
Originally posted 07/31/2009