Searching – Just One You Carters Gray Elephant Crib Pull Brahms
Natasha is also looking for this elephant with the DARKER ears.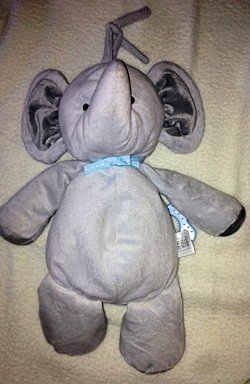 I'm looking for a Just One You Carter's gray elephant we call Elton…. It is about 11-13 inches long. This elephant is light gray with a slightly darker shade of gray on the inside of his ears. He has dark grey sewn on eyes and a simple little blue bow tie. When you pull the light blue ring at the end of his tail he plays Brahms Lullaby.
My almost two year old son has really done a number on his. I keep washing it, but I know it's only a matter of time before he won't make it through another cycle. Does anybody have one in good condition you're willing to part with? Or know where I can get one? Any help is greatly appreciated!
Thanks,
Kim
If you can help Kim find this Just One You Carters Gray Elephant Crib Pull Brahms, THIS SEARCH REQUEST IS NO LONGER ACTIVELY MANAGED. Please use Our FREE FACEBOOK GROUP, including the POST CODE #30444