Searching Baby GANZ Gray Mouse Blankie with Knotted Corners Pink Ears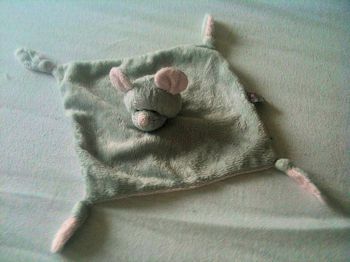 I'm looking for a grey mouse cuddle blankie with pink accents and knotted corners. The brand is Baby Ganz.
My cousin in Holland received this blankie as a gift when their baby girl was born. The friends who gave it to them live here in Canada and bought it here as well. This mouse has become their daughter's favorite blankie, and they would like to have another one, so they can wash the original one 😉
They are not able to find one in Holland, so he asked if I can try to find one here.
Thank you so much for your trouble and have a great day!
Yolanda
If you can help Yolanda find this Baby GANZ Gray Mouse Blankie with Knotted Corners Pink Ears, THIS SEARCH REQUEST IS NO LONGER ACTIVELY MANAGED. Please use Our FREE FACEBOOK GROUP, including the POST CODE #30439