FOUND – UPDATE – 90's Eden WHITE WOOLLY LAMB Wearing FLOWER PRINT SLEEPER with EYELET RUFFLE COLLAR Top Priority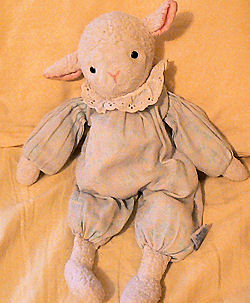 Dear Rosemary,
Received Lamby !!! It is exactly like the one she had only newer! She was ecstatic!!! She kissed and hugged Lamby for at least 10 min. She hasn't put it down since the mailman delivered it. I want to thank you for everything and to all who made this possible. You have made our special little girl happy again! It is a wonderful thing that you do.
Forever Grateful,
Michele
Here's good news from Michele!Emily had to go back in the hospital again to have a pic-line put in. She was having an allergic reaction to the oral antibiotics. We finally made it home and on Friday she had another allergic reaction to one of the infusion medications and was admitted in to the hospital again. The doctors changed the antibiotic again and we had to stay 24hrs to make sure she was tolerating it before they sent her home. We got home yesterday around 5pm. There will be many sleepless nights ahead but I think we are heading in the right direction. I will be glad when this is all over. Emily is a brave little girl and had endured so much in 11 years.
I got your e-mail last night and I was ecstatic!! The funny thing is that Lamb looks exactly like hers. I did purchase it. I want to thank you for everything you did to help us find one. We will be forever grateful to you.
Thanks again,
Michele
---

I have an 11 year old girl with special needs, and she's had this lamb since birth. It's a 90's Eden white woolly lamb wearing a flower print outfit with an eyelet ruffle collar. I believe hers was a mint green flower sleeper. It's been so long I can't remember! At this point she will take any color. She misses hers so much!

She is in the hospital recovering from major spinal surgery, and yesterday the nurse changing her sheets put it with the dirty linens. So far Lamby has not turned up. She is still in the hospital, and we found out today her cultures showed staf infection, and I don't know how long we will be here.

When night time came, needless to say, she cried, which made her pain worse.

I would be forever grateful if you could help me locate another one.

Thank you,

Michele
If you can help Michele find this 90's Eden White Woolly Lamb Wearing a Flower Print Sleeper with Eyelet Ruffle Collar , THIS SEARCH REQUEST IS NO LONGER ACTIVELY MANAGED. Please use Our FREE FACEBOOK GROUP, including POST CODE #091209-1 in the subject
Originally posted 09/12/2009