DISCONTINUED – 2008? GOFFA WHITE DOG with BROWN EARS
Lannah's email address is no longer valid.

I have a six year old niece that had this stuffed dog she received from her grandmother about two years ago. It is a plush dog that is a white color with brown ears. It's about 18-21 inches from snout to tail, made by Goffa Int'l Corp.

My niece was playing outside with it a few months ago. She threw it over the fence in our backyard where an old lady lived. The next day when she told us about it, we went to get it only to find it gone. It turned out that the old woman who lives in the house behind us had thrown it away for being in her yard.

I would really appreciate any help with finding it.

Thanks,

Lannah
Lanna found a fuzzy picture of what she thinks is the tush tag. Do you recognize it?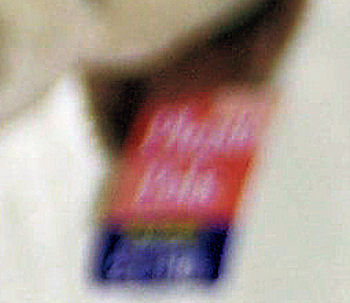 If you can help Lannah find this Goffa? White Dog with Brown Ears, THIS SEARCH REQUEST IS NO LONGER ACTIVELY MANAGED. Please use Our FREE FACEBOOK GROUP, including the POST CODE #022010-2,
Originally posted Tuesday – 02/20/10