Searching – Koala Baby Tan Print Giraffe Blankie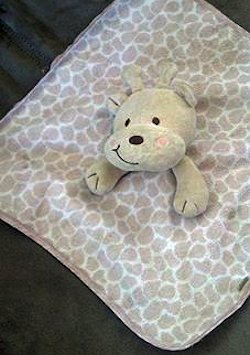 I'm looking for a 2011 Koala Baby giraffe security blanket/lovie. It is 13×13 inches with a plush material on one side with a giraffe pattern and a tan satin material on the other side. A giraffe head and arms are sewn in the middle of the blanket.
My twin sons have had lovies since their 6 week NICU stay following their birth. They sleep with their lovies and go everywhere with them. Whenever they are upset their lovie can always calm them. We have a spare for the one lovie, but can't find another one like this. They are 18 months old, and I can't imagine losing this. We have to pry it from my son's hands to even wash it.
Thanks,
Amy
If you can help Amy find this Koala Baby Tan Print Giraffe Blankie, THIS SEARCH REQUEST IS NO LONGER ACTIVELY MANAGED. Please use Our FREE FACEBOOK GROUP, including the POST CODE #26077