Searching – 80's DAKIN Clown Yellow Pink Green I Whistle a Happy Tune
We now have a mailing list of people looking for this clown.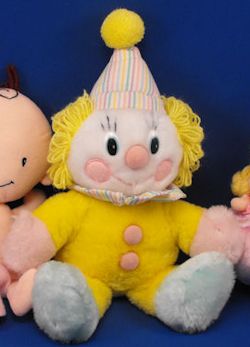 I'm looking for a DAKIN 1984 white clown with yellow yarn hair, plastic eyes, pink nose, cheeks, and buttons. He has a bright yellow furry body, pink hands, and green feet. There's a cotton pastel striped collar and a matching clown hat with a yellow pom pom. Wind it up, and it plays "I Whistle a Happy Tune".
It was my first gift given to me when I was born. It has been the only thing I have to remind me of my happy childhood before I experienced a rough time when I was little.
The one I have now is pretty beat up, and I would like a restored one for my 2 year old daughter that I had after having cervical cancer and was told I could never have children. She's my little angel!
Thanks,
Amanda
If you can help Amanda find this 80's DAKIN Clown Yellow Pink Green I Whistle a Happy Tune, THIS SEARCH REQUEST IS NO LONGER ACTIVELY MANAGED. Please use Our FREE FACEBOOK GROUP, including the POST CODE #26073