Searching – Just One You Carters Gray Elephant Crib Pull Brahms
Kim is also looking for this elephant with DARKER ears.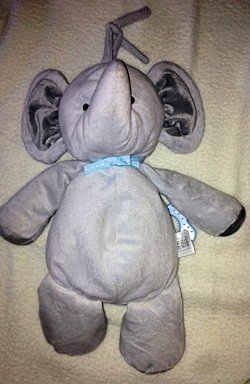 I'm looking for a Just One You Carter's gray elephant we call Elton…. It is about 11-13 inches long. This elephant is light gray with a slightly darker shade of gray on the inside of his ears. He has dark grey sewn on eyes and a simple little blue bow tie. When you pull the light blue ring at the end of his tail he plays Brahms Lullaby.
This lovie means the world to my son, and I desperately need a back up. It was the first stuffed animal my husband and I gave him, and he became attached to it in infancy.
We had a back up, but our Nanny lost it, and I have run myself ragged spending countless hours online, searching second hand stores, every Target I walk into hoping to find one even if it's used, but to no avail. I finally tried some nearly identical ones, and they've all been rejected. Only this lovie will do for my little boy.
I truly don't know how to convey the attachment, love, and sweetness my son shows this elephant, and I'm terrified that he will be heart-broken if anything happens to this one. "Elton" has even become a part of the family in my and my husband's eyes as well. This really means a lot to me.
Thanks,
Natasha
If you can help Natasha find this Just One You Carters Gray Elephant Crib Pull Brahms, THIS SEARCH REQUEST IS NO LONGER ACTIVELY MANAGED. Please use Our FREE FACEBOOK GROUP, including the POST CODE #30108