Searching E&J Baby Jungle Kittens Lying on Back – Lions and Tiger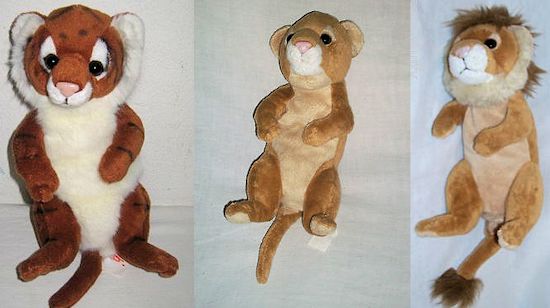 I'm looking for part of a set of baby jungle kittens made by E&J. Each kitten is about 12 inches long and lying on its back (in the position you would cradle a baby). So far I own the black panther. I know they made a Bengal Tiger and 2 different lions (one with a mane, one without).
I'm not sure if they made any others, but if they did I want them! I'm unsure of the year they were released.
These kittens are so important to me because of my little black panther Luca. Our friendship started in an odd way. I am a curb crawler (means I go out on garbage day and look for cool stuff on the curb). Well, I went past a house that had just recently redecorated, and there were two garbage bags FILLED with stuffed animals. Most were in almost new condition, and (after I verified that there weren't bedbugs or something like that) I re-homed most of them.
In the bottom of the second bag was the sweetest pair of brown eyes staring up at me. I pulled out this little baby panther (who was missing his nose) and just fell in love with him. It has taken me a while to find out his brand (his tush tag was cut off), and now I really want to find his "siblings".
This little guy means so much to me, and I would love to have all of the kittens. I know I will love them as much as I love him.
Thanks,
Lauren
If you can help Lauren find the E&J Baby Tiger and Lions Lying on Back, THIS SEARCH REQUEST IS NO LONGER ACTIVELY MANAGED. Please use Our FREE FACEBOOK GROUP, including the POST CODE #30228