Searching – CHAMOIS Pottery Barn GREEN MONKEY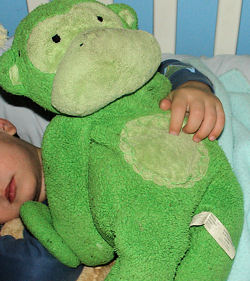 I'm looking for a chamois Pottery Barn green monkey from the "Critters" line made in China (by Gund, I think) and sold at Pottery Barn Kids stores and outlets around 2004.
I received this monkey as a gift from a very good friend more than 5 years ago. I took it everywhere with me (including sky diving!!!). About a year ago, someone took it from me (along with a lot of valuable things)… I haven't been able to find this green monkey anywhere.
If you have one in good condition, and are willing to part with it, please let me know.
Thank you!
Doris
If you can help Doris find this Chamois Pottery Barn Green Monkey, THIS SEARCH REQUEST IS NO LONGER ACTIVELY MANAGED. Please use Our FREE FACEBOOK GROUP, including the POST CODE #30569