MY SIZE Two Face Asleep Awake Blond Doll Needs Work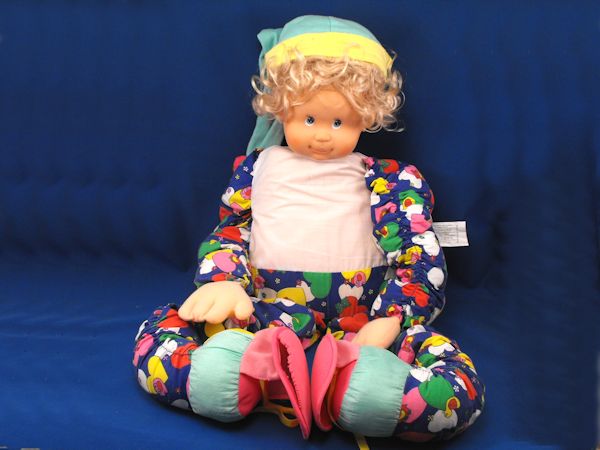 This XL blond doll is about 36 inches tall and has pink cloth stirrup pink plastic foam shoes on the feet and Velcro on the hands, so the child can get a hug and walk or dance with them. It is a two faced doll, with a beautiful smiling face on one side and a sweet sleeping face on the other. Her hair is blond and curly, and her arms and legs are covered in multi-color print. The body is white.
Obviously she needs work. The face has a few scuff marks, but the eyes, cheeks, and mouths are in very good condition.
SHE IS MISSING HER SHIRT, WHICH COULD BE REPLACED WITH A CHILD SIZE TOP. THE FOAM SHOES ARE DAMAGED. (The easiest way to fix the feet is to take off the current shoes and replace with wide elastic, so your child can put her feet in the stirrups and walk or dance with her doll.)
The XL size of this doll will require the Oversize surcharge on postage. So the s/h is higher than you might have expected.