The VERY FIRST Fisher Price Puffalump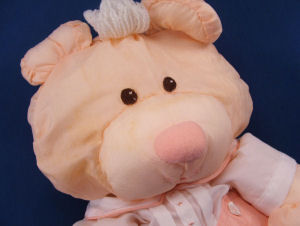 Of all the soft dolls and stuffed animals that we sell on the Internet, the ones that I enjoy the most are the Fisher Price Puffalumps. They come in all sizes and types, from the huge Big Things to the small baby rattles and the Puffalump Kids. All of them are made with the characteristic parachute material covering and soft fiber fill that cleans up so well and is very durable.
We were fortunate enough on one of our recent estate sale forays to find one of the very first series of Puffalumps, issued in 1986, which is a peach colored bear, wearing a one-piece shortall outfit.
(You can click on the picture to go to the auction, if you'd like to read more about him.)
We have a whole box of Puffalumps in inventory that I haven't gotten around to photographing and describing yet, too, that we will be glad to sell to you directly. If I could just quit blogging, I might get some work done, ya know? 😉
And here's a link to what I think is the best resource site on the Internet for information about all the Fisher Price vintage toys, This Old Toy.