THIS Is Exactly Why We Sell Plush Toys & Have This Blog!!!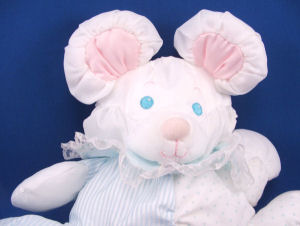 We've been selling plush animals and soft dolls on eBay for several years now, and have received many heart warming emails, thanking us for our help in locating a particular toy that they had been looking for. We got such an email this week from a recent customer.
Thanks for your quick reply – I was so surprised to see this item on eBay (I don't know why ).
My daughter had this little mouse when she was a toddler and loved it to pieces ~ literally). She is handicapped and nearly 18 now. She still remembers this little guy, and I can't wait to see her face when she opens it on Christmas morning. She called it her blanky bear. It made many trips to the hospital with her and frankly was destroyed and beyond repair (I still have one little paw tucked in my jewelry box).

I look forward to receiving your package –

Merry Christmas!
Knowing that we have made that kind of difference in someone's life, by doing something as simple as finding just the right stuffed toy for them, is very satisfying. It's what keeps us going out on our Friday Date Days, checking out the yard sales and estate sales, looking for mint condition stuffed animals and soft dolls and vintage collectibles. It's wonderful to have a hobby that we enjoy that can bring this kind of pleasure to someone else, as well.