FOUND – He's a PLAYSKOOL BEAR FRIENDS DOLL!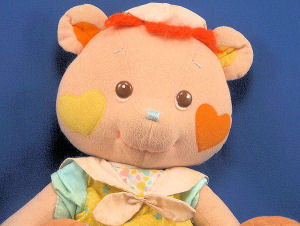 I should have known that Kimberly would know what this bear was! Thanks to her, I now know that this is a Playskool Bear Friends doll from either the late 80's or early 90's.
We have him listed on eBay right now. I wonder if any of our readers ever had this doll as a child.
Thanks so much for your help, Kimberly. "You're the Best" certainly fits YOU!
If this happens to be a doll from your childhood memories that you would like to buy, or if you have a story to tell about your Bear Friend, THIS SEARCH REQUEST IS NO LONGER ACTIVELY MANAGED. Please use Our FREE FACEBOOK GROUP, including #011908-1in the subject, .
Originally posted 01/19/2008
PLEASE BE SURE YOU USE AN EMAIL ADDRESS THAT IS CORRECT, AND THAT YOU WILL BE USING FOR A LONG TIME!!
I can't help you if I can't contact you!!