How to Turn a Stuffed Animal into a Baby Halloween Costume
Finding unique Halloween costumes for a baby is not always easy. But these directions sound like an easy enough process. And it sounds like it would be very comfortable for baby, too. Changing a diaper in a baby Halloween costume needs to be super easy – and this idea fits that need.
One of our regular Finders sent this and said it was OK to share the photo.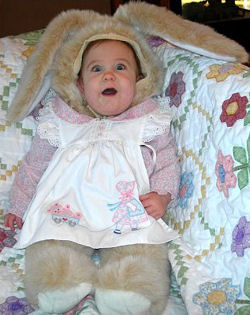 Rosemary,
Thought you would enjoy this costume I made for my daughter for her first Halloween. We had gotten a large plush bunny at a yard sale. I took its insides out, and cut the face off. It felt gruesome. But it had to be done.
I sewed it to a velor hooded jacket. I used the arms for mittens, and the legs of the bunny for shoe covers. I used a vintage girl's dress. It looked so cute.
It was very warm, and so adorable.
The writer said she used a thrift store plush to make her baby Halloween costume. Hopefully she washed it before using it, even though she planned to take it apart. We recommend that you wash any plush animal or soft doll we sell before you give it to a young child. We do have some suggestions about How to Clean Plush Lovies.