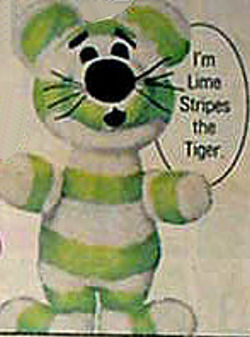 I'm looking for a green and white striped stuffed tiger from Beech Nut Fruit stripe gum. These were stuffed animals in the 60′s. There were several animals including a zebra, mouse, horse and tiger.

My aunt talks about it all the time and I want to surprise her for her birthday with one of her childhood toys. I've been looking for quite a few years. Any help would be appreciated!

Thanks,

Christy
If you can help Christy find this 60′s Beech Nut Gum GREEN & WHITE STRIPE TIGER, THIS SEARCH REQUEST IS NO LONGER ACTIVELY MANAGED. Please use Our FREE FACEBOOK GROUP, including the POST CODE #22251,
Please add the POST CODE to your comment.
Searching for a toy – Originally posted Thursday – 04/26/2012